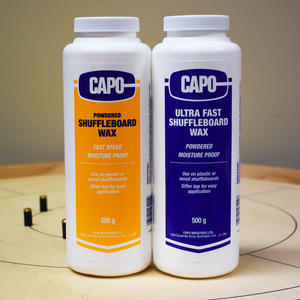 If you are interested in a faster crokinole game, this powder is what you need. This powder allows crokinole discs to slide easily and quickly. It is moisture proof and has a sifter top for easy application.

Details:
500 grams Fast speed crokinole board powder
500 grams Ultra fast speed crokinole board powder
To use, place a very small amount in the ditch of your crokinole board and rub the disc on it before shooting.

The fast speed powder is what is most commonly used at crokinole tournaments.
Video Review: